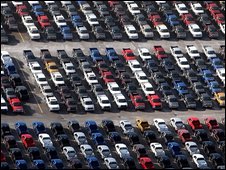 You want to know what is so wrong with US economy, you want to see WHAT utter complete Lunatics Republicans are and have been, and how Democrats have not been that much better, then all you need to do is ask yourself:
WHY is it that ONLY US Auto makers went bankrupt while the European Auto makers such as Benz, BMW, VW, etc. did not? That is sales of Autos were down for most Auto makers, but only US Auto makers went bankrupt, why is that? OTN, market valuation of Germany's VW alone is MANY TIMES greater than that of GM, F & C combined!
But before you answer the above question, keep these FACTS in mind:



The net actual salary of German Auto workers are substantially higher than that of US Auto workers (aka UAW). To be exact: take out the health care costs out of UAW workers pay checks, since in Germany they pay $0.00 for health care costs since they have Universal Health Care and you will see that UAW workers are paid substantially LESS than comparable German or French Auto workers net take home salary.




German Auto workers have much more benefits that US Auto workers, considering the FACT that in Germany by law employees are entitled to 8 weeks paid vacation per year while in US no such law exists and thus employees are lucky to get 2 weeks paid vacation per year.




Plus many other benefits that German (Auto) workers have which US (Auto) workers dont, such as in Germany they get free day care, unemployment benefits which are substantially higher and last substantially longer. etc. etc..



And also keep in mind these FACTS:
1- While US Auto makers have been laying off US Auto workers by 10s of 1000s as if they are Cockroaches, in Germany German Auto makers have not had ONE lay off, repeat not EVEN ONE lay off, with Government subsidies, because that would be bad for the Social fabric of the country which ultimately will mean the German car makers and businesses as a whole.
2- German population is less than 1/3 of US and Germany hardly has any natural resources compared to US.
So why are the US Auto makers went bankrupt while the European Auto makers did not?
Answers are:
1- Europeans have Universal Nationalized Health Care and many other Socialized services
This means European Auto makers, well the whole people & nation, pay ZERO for health care expenses on top of their Taxes because health care is totally paid for from the Taxes that they pay, whereas US Auto makers and People have to pay 100s of Billions of Dollars per year for health care costs on top of the Taxes that we pay. And get this: for someone making $36K to $100K per year, Taxes are the same or slightly less in most European countries than in US. AND as the Ultimate "Adding insult to injury", Health care takes 8% of GDP in Europe while it takes 16% of GDP and rising in US. And Republicans are such lunatics to call Germany "Socialist.." and Universal Health Care "Socialism" and our Media is so right-wing to generally repeat the same Republican loonie line. To be exact consider that for example GM has 10s of Billions of Dollars of health care payment obligations to current and retired UAW workers, which the lunatic Republicans and right-wing Media sites as the reason GM is going bankrupt, while VW of Germany has ZERO Dollar of such payment obligations because they have Universal (National) Health Care in Germany, again what the lunatic Republicans call "Socialism..".
So because German Auto makers have been saving 10s of Billions of Dollars per year in health care costs, because they have Universal Health Care in Germany, they could invest these savings in making better cars or building their cash reserves for a "rainy time", etc.
2- Europeans do not waste their money (their People's Taxes) on a Gargantuan Military budget while US does
Consider this fact: US Military budget is larger than Military budget of every nation on earth combined
while US market now is at best 15% of world economy. The result of this incredible Military budget are many negative things for the US economy, one of which is the best and brightest of our engineers are working on Military matters, to make weapons to kill people, while best and brightest of European engineers are working for their Auto industry or for other industries that make things that people buy. After all who makes the best Fighter planes, best Tanks, best Submarines, best Helicopters, etc.? US or Germany? US does. Why? Because our best and brightest engineers and too much of our resources are going to make Weapons to Kill rather than Cars and other products people buy. Or consider this amazing fact: US has 350,000 troops positioned in Europe, pumping in excess of 50Bill American Tax payers money into Europe, while Europe is much richer than US AND Europe has NO enemies that it cannot easily defends itself from easily.
3- US products are boycotted by most of the World due to US & Israeli war-mongering
That is most of the World considers the US War in Iraq, Israeli war in Lebanon, Gaza, etc. and US support of these Wars to be criminal and wrong at best, and as a result they will NOT buy US made products, such as Autos, Planes, etc., IF competing products are available which are at least as good. I mean think for yourself, IF you are one
of the Billion Arabs/Moslems, whom we send to $800Bill of our money per year in form of Oil purchases, would you buy a US made Car, Plane, etc. given how wrong you find the US War in Iraq to be and Israeli War & killings in Gaza to be or would you buy a German made car or a French made plane, etc. when they are both pretty much priced the same and deliver the same if not better quality, etc.?
Now why these issues are so very important and worth repeating OVER and OVER until they are addressed? Because the above reasons for WHY US Auto makers are doing so badly as a result of which they went bankrupt, etc. etc. apply to (almost) all of US manufacturers, to all of US businesses, as a result of which US economy is doing so badly compared to European economy as evident by average house prices in Europe being so much more valuable than average house prices in US, as evident by Euro being so much more valuable than US Dollar, etc. etc.
So you see unless we make immediate and fundamental changes to US economy, which means also US policies, US economy will continue to fail one part after another, as evident by US Auto makers teetering on the edge of failure and all other bad news coming out of US economy. These fundamental changes as should be obvious from the reasons given above for why US Auto makers are going bankrupt means finally realizing that the policies of the Republicans and right-wingers in US are that of a Lunatic at best and that we need to invest much more of our money (Taxes) in our people and cities and much less of it in unnecessary Wars and a Gargantuan Military.
Also you want to see how right-wing US Media is, consider the FACT that it does not ask the above MOST OBVIOUS question, for if it did then it would have to give the answers which would prove how lunatic Republicans are and how right-wing US Media is and how little difference there is, or at least has been to date, between Democrats and Republicans, because the right-wing lunatic policies that have lead to the near collapse of US Auto makers were, at least to date, were fostered under both Reps & Dems.
In closing, just consider that Republicans and our right-wing Media (aka Agents of Big corporations & wealthy), railed against UAW getting paid too much as the reason for US Auto makers going bankrupt, when avg UAW gets $60K per year in net pay (after health care costs) and on Mar/29th Wagoner the x-CEO of GM was so called fired AND given a $23Mill severance pay and the Republicans had NO problem with that.
So get this according to Republicans and our right-wing Media: $60K per year for UAW workers is too much and why US Auto makers are doing so badly WHILE $23Mill for Wagoner is fine.
P.S., As the ultimate proof of what lunatics, what Hoaxes, Republicans and their ideas are watch that they will NOT be able to answer the above question.
That is they will not be able to answer "WHY is it that ONLY the US Auto makers (aka Big 3) went bankrupt while the European Auto makers such as Benz, BMW, VW, etc. are doing quite fine? " and keeping in mind that German Auto workers are paid far more than UAW and they have far more benefits than UAW and German Auto companies have had ZERO lay off while US Auto makers have laid off 10s of 1000s of workers.
But instead of answering this question, which if they tried to do will just prove what lunatics Republicans are and how right-wing US Media is, what they will do,
out of desperation, is throw a few insults at me or a few rants. Watch.
For details of Steps we need to take to set the US economy right check out:
http://www.anoox.com/news/show_selected_article.php?article=140