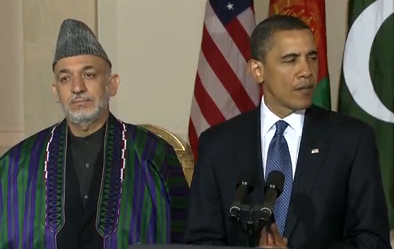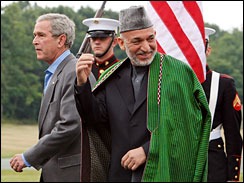 If US was really a Democracy, then real 3rd Parties would challenge FRAUD Obama Democrats, lets not even talk about TEApublicans that are utter complete LUNATICS. With real 3rd Parties being not FAKE 3rd parties such as Libertarian TEA Party that are created by same Billionaire gang behind Republican lunatics & FRAUD Obama Democrats.
About Obama being a FRAUD, consider the FACTS;
1- Obama Admin carried out the Iraq war just as per Bush. And Obama has started Iraq War # 4 under even bigger lies called "threat from ISIS" which lies are 1000 times greater than Bush lies that started Iraq War # 3, given the fact that ISIS is 1/1000th of Military threat that Iraq was under Saddam which was PROVEN to be no threat at all.
2- Obama Admin carried out the Afghan War just as Bush, even increasing the number of US troops there. And it has engaged in every War-mongering of Bush from Iran to North Korea, to having added Libya & Syria to the list.
3- Obama Admin did not even propose set aside pass real Government run Universal Nationalized health care (aka NHS) as they have in ALL developed Nations, which NHS is so necessary to the well being of a Nation that is 100% supported by ALL Conservative parties, repeat all Conservative parties, in Europe, Canada, Australia, etc.. Instead Obama Admin passed a joke of a Health Care reform, a Water down version of RomneyCare, a plan proposed by Ultra RightWing Heritage Foundation, that neither delivers Universal health care nor dramatically cut health care costs, what only NHS can do.
5- Obama Admin has presided over a Military budget that is TWICE as large as it was during
the height of Reagan Admin, when Soviet Union existed with its Million Man Army, Ships,
Fighter Jets, Sub Marines, Tanks, etc. while today Alqaeda has ZERO Ships, ZERO Fighter Jets,
ZERO Sub Marines, ZERO etc. real Weapons
6- And add insult to injury Obama Admin has become even more right-wing on KILLING, aka Drone killing of anyone including Americans, so much so that a Republican nut job like Rand Paul would Filibuster the senate hearings regarding Obama Admins claim that they have the right to KILL anyone with Drones!
And there are many other steps that Obama Admin talked about taking when running for President, but while in office they did NOT actually take any of these steps and EXACTLY carried on as Bush Admin, that is exactly do what the Military Industrial Complex, Israel & Wall Street wants resulting in Wall Street hitting RECORD High after RECORD High after RECORD High after RECORD High, while American Main Street is going to hell such as Detroit going bankrupt.
Yet Republicans & Wall Street right-wing Media are playing such Con Job on US, to call Obama Admin to be "Socialist"! When Obama FRAUD is to the FAR RIGHT of Reagan and certainly to the FAR FAR Right of all Conservative parties, in Europe, Canada, Australia, etc.
Just think what LYING Machine Republicans & US Media are to call Obama Admin "Socialist"
So just think what freaking lunatics Republicans are, what lying machine almost all of US Media are, aka the right-wing Media are, that even though Obama Admin is to the FAR RIGHT of the Conservative parties in Europe, Canada, Australia, etc., to the lying machine that are the Republicans party and the US (right-wing) Media/Cabal, aka Wall Street owned Media, Obama is:
"Great Appeaser in Chief"
"Socialist"
etc. psycho babble.
I mean what do they want? That Obama Admin beside carrying on all the Wars of the Bush Admin, to have started a New War with Iran or Syria? Are they that insane or do they think American people are that brain dead! Oh wait, that is actually EXACTLY what they want!
There is NO real TEA party, it is just a creation of the Right-Wing Cabal such as Koch brothers
Nothing better demonstrates that US is NOT a real Democracy and that a shadow elite behind the scene has hijacked the US Government via their access to 100s of Billions of Dollars and control of most of US Media, than the so called TEA Party. For the TEA party is funded by the same money/power behind Republicans being the Lunatics that they are, to be even more of a Lunatic than Republicans, if that is even possible, to make the Republicans look sane in comparison. To be exact as it became obvious to all educated people that Republicans are lunatics and Obama Democrats are FRAUD, that is Obama Democrats said the right things when running but once in the office did the same as Republicans, and that there is need for 3rd Parties to challenge this lack of real choice, THEN the right-wing Cabal behind Republican lunatics & FRAUD Obama did what it does best, that is to Con US, they funded an even more right-wing lunatic bunch, aka the TEA party. After all the only so called platform of TEA party is STOP Spending which means STOP Jobs and create MAXIMUM Unemployment since every Job depends on spending.
To see even more clearly that the TEA party does not really exist and that it is simply the creation of the right-wing Cabal behind Republicans and the US Media being the lying right-wing machine that it is, consider these facts:
1- US Media just about NEVER covers other real parties, such as the Green Party, Socialist party, etc. but they NON-STOP cover the TEA party. Put in simpler term, if US Media would give the Socialist party the same coverage as the TEA Party, by now the Socialist party would have won in US, as they have won in Brazil under Socialist party of Luís Inácio Lula da Silva, in France under Francois Hollande, etc.
2- TEA Party literally does NOT exist. To be exact all the so called TEA Party candidates ran and run under the Republican ticket. For example in Nevada that psycho Angle ran not under the TEA Party ticket, she ran under the Republican ticket. In Delaware that even greater psycho O'Donnell ran under Republican ticket. In Florida the so called TEA party candidate Rubio ran under Republican ticket. etc. etc.
So we need real 3rd Parties to run against ObamaBush
So given the FACT that the right-wing Cabal that is behind Republican lunatics and FRAUD Obama Democrats, due to the fact that they are armed with 100s of Billions of Dollars, can in a heart beat create fake 3rd Parties, or fake Media outlets, the only way to ensure that a 3rd party is a real 3rd party and beholden to the people and not the Big corporations, Wall Street gang & Military Industrial complex (aka the right-wing Cabal) is to have 3rd Parties that are based not on cheap slogans or no slogans, but 3rd parties that are based on the following KEY principles:
1- Bring about Universal nationalized health care, as they have in ALL European countries, Canada, in fact in ALL Developed Nation.
2- NO MORE Wars of Choice, NO MORE pre-emptive Wars, NO MORE War-mongering.
3- Cut the size of the US Military to be in line with the size of the US economy to World economy. So this means that given the fact that US economy is now about 20% of World economy and World Military budget is about $700Bil, then this means cutting US Military budget down to about $200-Bill. Note even at this amount US will STILL have the Worlds largest Military budget BY FAR, that is how astonishingly Gargantuan the current US Military budget at reported $700Bill per year is.
4- Bring all US troops home from Europe, South Korea, Japan, etc. – after all these countries economy are doing MUCH BETTER than US economy and they are NOT paying US a dime for this Military protection and they do not have a threat that they cannot crush on their own.
5- Immediately start construction on a 10 year $4-Trillion High Speed Train program to connect all Major US cities. And Immediately start construction on a 10 year $4-Trillion program to generate 50% of US energy by 2020 from renewable Energy. And lets state that for these 2 programs, which will create about 10-Million High paying Jobs and make unimaginable investment and improvement in American heart land, we will pay for not by borrowing money, although it would be quite fine to borrow for these purposes as long as such borrowing produces greater ROI, but we will pay for them by the 80% cut in US Military budget and Ending the Iraq & Afghan wars.
6- Provide Americans with Universal nationalized college education, so that an Americans that has passed the necessary tests can go to college for BS & MSc studies for pretty much free, as they can in Germany, France, etc. Since a highly educated population is key to economic growth, more Tax revenues, and ultimately more prosperous societies.
etc.
So given the FACT That Republicans are such utter complete lunatics to be against all of the above positions and Obama Admin is such a FRAUD that it actually did NOT deliver on even one of the above positions, THEN if US is a real Democracy and not run by the right-wing Cabal, THEN real 3rd parties will challenge ObamaBush and we will thus have the "real Change that we are hoping for" and not the NO Changes that we got from ObamaBush.
To the FAR left of the Obama Democrats are the Conservative parties in Europe!
To see how right-wing Obama/Democrats are consider this ABSOLUTE FACT:
if you go to the FAR LEFT of the Obama Democrats, then you will be in inline with the Conservative parties, repeat for Republican lunatics and lying US Media, the Conservative parties, in Europe, Canada, etc. Given the FACT that for example Margaret Thatchers Conservative party in UK, Stephen Harper's Conservative party in Canada, etc. are 100% for their Government run Universal socialized health care system (aka NHS), something that Obama Admin did not even propose, set aside pass.
And why are all Conservative parties in Europe, Canada, etc. 100% for their NHS? Because a real Conservative, unlike Lunatics, unlike Agents of Big pharma & Big insurance (aka Wall Street gang), unlike the TRUE ENEMY of a Nation, would absolutely want NHS, since NHS means everyone having health care while health care costing the Nation 50% less, not more, but 50% LESS, which would mean $1-Trillion LESS per year in case of US.
And again lack of NHS in USA, is just one example of how right-wing Democrats have been, which means owned and operated by Wall Street & Big Corporations, and what utter complete lunatics Republicans are whom are even to the far right of the Democrat!
Further proof of how right-wing Obama Admin is & why we need real 3rd parties
And as final & ULTIMATE proof of how right-wing Obama Admin is, how there is little real difference between it and the Republican lunatics, to be exact how the Military Industrial complex controls both, consider the fact that the day after the Aug/1/2011 deal to cut the Deficits by $1-Trillion where most of that cut was on the back of the American people (aka Middle class), aka cuts to "Entitlements", Obama Secretary of Defense Paneta was in an interview with Joint Chief of Staff in which meeting Paneta said that the next $1.2T in cuts, if $500Bill of it over 10 years are to be born by the Defense budget would be devastating to Defense and that he said that "the Deficits reduction should instead be made via cutting the Entitlements and then he mentioned increasing Taxes too." So US Military budget is beyond Gargantuan given the fact that it is equal to Military budget of all countries on planet Earth combined or it has doubled since the height of Reagan era when the Soviet Union existed rather than being halved since dissolution of Soviet Union and Obama Admin considers a paltry tiny 10% cut to this Gargantuan Military budget to be "devastating to Defense.." and instead wants the cuts to come from the measly Government benefits that Americans get, measly compared to what the Europeans, Japanese, Israelis, etc. get from their Governments. After all US does not even have NHS which all these countries have.
Question: What to do then?
Obvious question then becomes: how is it possible that Government in US, as embodied by majority of Democrats and all Republicans, has moved so far to the right, that the Democrats are to the FAR RIGHT of the Conservative parties, in Europe, Canada, etc.! How is it possible that as it became obvious to all informed people that Republicans are utter complete lunatics, and that we need new 3rd parties, that all of a sudden the so called TEA party was created who is to the FAR RIGHT of the Republicans, that is even more insane than the Republicans whom already are utter complete lunatics. The answer to this question is that the same gang that is making an extra $1-Trillion per year from not operating health care on NHS basis, who is making Trillions of Dollars from non-STOP War-Mongering and Fear-Mongering, also controls almost all of US Media, resulting in
US Media being the right-wing LYING machine
that it is to lie and lie on their behalf to get away with whatever Con Job that they want to carry on American people.
So if you want to have real 3rd Parties that would defeat the FRAUD Obama Democrats and the Republican lunatics, so that US will be run for the benefit of her People and not the 1% super rich at the top, as European countries, Canada, Australia, etc. are run, then you need to realize that this will only happen if you STOP getting your information from the right-wing LYING machine that is US Media, aka Wall Street owned Media, which is 99% of US Media, and get your news and information from real independent sources.
---
A great related Video, as usual by John Stewart
--------------------------------------------------------------------------
1) GE pays NO Taxes on $14-Billion in profits
http://www.nytimes.com/2011/03/25/business/economy/25tax.html?pagewanted=all
2) Conservative parties in Europe, Canada, etc. are 100% for their Universal Nationalized health care
http://www.realnewspost.com/sa.php?a=35602
3) Key problem with US is that most of US Media is a right-wing (LYING) machine
http://www.realnewspost.com/sa.php?a=33681
4) Highest-Paid CEOs earn More and spend more to lobby the members of the Congress than their Company Pays In Income Taxes
http://www.huffingtonpost.com/2011/08/31/ceo-taxes-company-income-study_n_943063.html
5) USA in Afghanistan, China not - US has HUGE Deficits, China has HUGE Surpluses
http://www.realnewspost.com/sa.php?a=42341